A new alternative to Property Management in Medellin
Dear Gutierrez Group reader,
A few weeks ago, in one of our recent newsletters where we presented our Private Mortgage Lending project (click here to read it), we mentioned that we believe there are better opportunities out there, waiting to be seized, when compared against traditional real estate.
Our Mortgage Lending, Taxi Lending, Factoring with Judgments, and Forestry programs are all perfect examples of this. The first three have been consistently delivering annual yields between 10 and 13% for several years, while our forestry program, Colombian Timber, is expected to far exceed these yields. Furthermore, these opportunities are all comprehensively managed by ourselves and our group of professionals with the same degree of care and excellency that we imprint to anything and everything we do.
Now, the foregoing doesn't mean that we don't like real estate. We actually do and we have our own share of real estate in Medellin. After having closed well over 400 transactions since 2009, we understand the importance of real estate, and while we don't necessarily consider it a remarkably profitable investment, we do recognize its importance into any investor's portfolio.
We're also no strangers to the dynamics of foreign investment in Colombia, as we've been in the business of taking care of expats and foreign investors for the past decade. We've seen, first-hand, how their initial, almost instinctive interest in Colombia is to buy a second home to either rent out, live a portion of the year in, or both.
Sadly, in the same way we have helped hundreds of foreign investors materialize their goals of buying real estate, we have also seen some of them shift their gears to reverse, pack their belongings, sell their properties, and take off, more often than not due to situations beyond their control. Overpriced properties (what we colloquially refer to here as "gringo pricing"), which transforms to promised yields not being achieved; disjointed legal, tax, and accounting management towards owner's fiscal efficiency and/or procurement of visas; or the most common cause of all, simply poor property management service are the main reasons why investors wave goodbye.
It is precisely because of these grievances and our client's subsequent struggle that we decided almost two years ago, to create our very own Property Management Division.
Our direct involvement in this industry started in mid-2016 with the development of Manila House, a 3-year-old 5-stories building that we bought by joining forces with three of our closest clients, renovated and furnished. Today, Manila House operates as a fully-licensed short-term rental building with five tastefully designed units of different sizes, in one of El Poblado's most up and coming neighborhoods, with average occupancy rates of between 70% to 80%. The entire project took our team, led by Felipe and Daniel Gutierrez, founding partners of Gutierrez Group, only 6 months, from when the property was purchased until it was fully operational, by the end of 2016.
Manila House Unit 4 / Manila House Unit 5 / Manila House Entrance
During the first quarter, Felipe was in charge of operations, but soon enough we brought into the team someone who could entirely devote to leading the blossoming project: Ana Maria Estrada, who took over as a whirlwind of efficiency. What happened next shook our core and made us fully aware of the problem we referred to just a few lines above. Without wanting to spread the word at all, it didn't take long for a few close clients to notice that we were managing rental properties and kindly request us to take over their own units.
Naturally, after assessing their situations, we knew that we needed to step up and aid. But in doing so we also needed to further reinforce our operation, which is why so we recruited more talent: a second property manager, two new accountants, cleaning staff and all terrain handyman.
In over a year and a half, we organically grew from managing just the five Manila House units, to 30+ properties in Medellin and 5 in Cartagena, all of which are owned by clients that we can also call friends, which is the only way we know and believe business shall be done.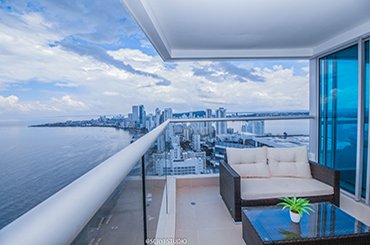 Palmetto Beach (Cartagena)
In retrospective, the (un)fortunate set of events that conducted to us getting involved in our version of truly careful property management has granted us an even more powerful strategic advantage as a MULTI-FAMILY OFFICE.
Today, in addition to the full array of legal, reporting, investment, wealth management and back office services, we now have a fully consolidated Real Estate Division, composed by three areas:
Project Development, led by Daniel Gutierrez, in charge of finding unique opportunities to develop real estate projects of different sizes and kinds (big news coming soon…)
Property Management, led by Ana Maria, in charge of operating both the projects developed by our group as well as the properties that our clients trust us with.
Realty, led by Juan Camilo, in charge of finding our clients good opportunities that fit their requirements at truly fair prices.
New project in El Poblado, under licensing
In sight of our comprehensive involvement in Real Estate, it is our great pleasure to invite our readers to consider us for their current or future property management and real estate needs. Reliability, responsiveness, proper articulation between the different fields of expertise and good old fashioned Gutierrez Group's care are a few of the things that we bring to the table.
To see our SuperHost AirBnb profile, see our current listings, and read how our guests are reviewing us, click here.
To inquiry about our Property Management service please contact Ana Maria Estrada at manilahouse@gutierrezgroup.com.co
And here are some of the latest reviews we've gotten from satisfied guests:
Medellin as an innovation hub and digital nomad paradise.
Medellin has become one of the most desired destinations for expats, from full-time retirees to young digital nomads, thanks to powerful reasons: spring-like weather all-year-round, cost of living, and lifestyle options, to mention just a few.
But it doesn't end there. The city has changed its strategic business planning, from a city driven by the old traditional industries, being textiles the most important one, to one driven by innovation, science and technology. The city counts with a few of the best universities in the country, the most important economic groups operating locally, and a private sector fully committed to the development of the region.
The city is known for its welcoming business framework and its willingness to promote any initiative that contributes to the social and economic wellbeing of the region.
If you're wondering which door to knock on first, feel free to reach to us for business and/or legal advice. We've helped 1,500+ foreign individuals and companies insert into the local business atmosphere. Click here to read more about our services.
Here are some of our client's testimonials about their experience with us:
Yours truly,
GUTIERREZ GROUP