"The real voyage of discovery consists not in seeking new landscapes, but in having new eyes."


― Marcel Proust
After months in the making, Gutierrez Group (GG) proudly presents its latest architectural labor of love. A bold addition to the beautiful city of Medellin, 3450 Living by GG is ready and certain to be the most desirable accommodation for travelers looking for modern luxury in the heart of Medellín, Colombia. The relaxed atmosphere is perfect for young professionals, students, couples, digital nomads, or friends looking for a cost-effective space in a prime location.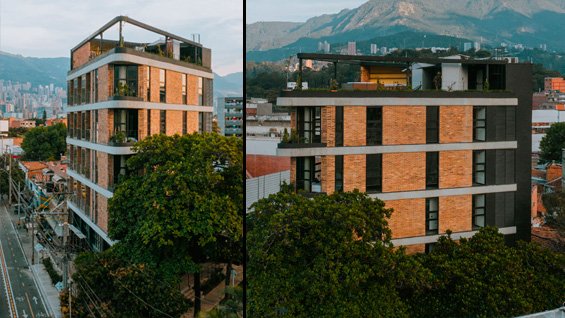 3450 Living offers everything local and international travelers may need. It provides a glimpse of Medellin's future, showcasing a modern architectural structure while incorporating Medellin's natural environment. Stylishly contemporary and environmentally-friendly, 3450 Living is emblematic of how Medellin has changed and the direction it is headed, it is a symbol of Medellin's inclusive community spirit and a recognition of the importance of green planning.
Despite the difficulties of the previous year, GG has carried out the entire design and implementation of this latest project. GG has developed a clear architectural vision for Medellin, which is based on working with the natural landscape merged with the demands of urban space. Bolstered by a team of committed allies, GG has the partnerships, resources, and above all, the clarity of vision required to create stunning designs that serve the needs of our clients. And remarkably, 3450 Living was completed within schedule and on budget — no small feat during 2020.
The triangular layout of the lot was the basis for the design which is a Colombian nod to New York's historic Flatiron, the iconic contribution to that famous city's skyline. The triangular shape also provides a cooling effect that helps air circulate more aerodynamically throughout the building, cooling the suites naturally.
3450 Living is situated in the city center, across from Medellin's famous Unicentro shopping center and a minute's walk from the Universidad Pontificia Bolivariana, one of Medellin's most distinguished universities and host to over 26,000 students. Nearby you can find Medellin's River Parks, part of an ambitious project to reclaim city space from vehicles through repurposing public spaces. Much in the same spirit, 3450 Living was created to add to the essence  of community.
Designed like a ship's bow, the angular combination of glass, brick, black metal, and concrete is unique. The ground floor features retail space, which insulates the apartments above from street noises. The green embellishments are reminiscent of the city's eternal spring setting. The middle four floors are soundproofed with an interior design that integrates a mixture of industrial, wood, and minimalist aesthetics to create a nourishing, cozy space. These sunny apartments feature a balcony, a full modern kitchen, and one or two bathrooms depending on the suite. You'll find a shared rooftop terrace space complete with a laundry facility, barbeque area, and jacuzzi on the sixth floor.
We pride ourselves on our high customer service standards and strive to provide an excellent guest satisfaction level. Check out some of what our guests have to say:
"Had a pleasant stay at 3450. It's a brand new building with brand new building kinks that the staff worked out almost immediately! The front desk team couldn't be more responsive or helpful. Unicentro is right next door and a short 15 minute walk to LA 70. Overall, a pretty good stay!"
~ Brad, Jonestown, Texas
"An amazing, trendy space. Easy check-in and out. Located right across the street from a shopping mall, and small walking distances to restaurants and shops. Perfect personal details were left, and the amenities were outstanding. The view from the jacuzzi on the rooftop was incredible. Couldn't have asked for a more perfect place!"
~ Laura, Cincinnati, Ohio
"These are very nice apartments, the pictures do not exaggerate. The apartment was stocked really well, with a blender, iron, plenty of towels, and a fresh bag of coffee. The location is great too – many restaurants around with a grocery store within walking distance. The staff – door guys and cleaning women – are really kind and professional too. They've done a great job with this place and can recommend 100%."
~ Mark, New York
You can be one of the first to experience 3450 Living. After you take a look at these photos showing the various room options and the rooftop amenities, we're certain you will want to book your next stay at 3450 Living. 
We want to extend our deepest gratitude and highlight the outstanding work of GG's allies who passionately and tirelessly have worked to carry out this project. Santiago Jaramillo, Manager of Lineamientos Civiles (Construction) and the entire Ruptiva team (Design and architecture) proved once again that a job well done is much more rewarding than any material compensation. 
On behalf of Gutierrez Group, we welcome you to 3450 Living, the place where stories are created, memories shared, and you will see Medellín with new eyes.
Our team is proud and excited to be a part of this development and we are eager to share it with travelers worldwide. We warmly invite you to experience this stimulating Colombian blend of luxury, convenience, and authenticity. Book your stay at 3450 here. Hope to see you.

Create an account at our firm by filling our KYC form
Check out our portfolio and look at opportunities to invest
Open your bank account in Colombia (we'll help you)
Send funds to Colombia and become an investor