Surprise reasons why you need to visit Medellin: The thriving food scene
This is the first of a series of articles about the hidden treasures of Medellin, told from an ex-pat's perspective. Be sure to check out the next Gutierrez Group newsletter for more stories to come…
Five years ago when my husband and I began researching cities to visit and places to eventually live, we discovered Medellín. We heard about the amazing weather, the beautiful green spaces, the Paisa hospitality and the low cost of living. After living here for almost three years, I can confirm everything we heard, and so much more. Medellín has evolved in the past few decades into a safe, thriving community, and it continues to grow into a top-notch, cosmopolitan, must-see destination.
Amarillo Chocolate
Credit: Facebook
Our First Surprise: Medellin's Gastronomical Scene is Exploding!
Recently, CNN Travel published an article entitled "How Medellín Became Latin America's Hot New Dining Destination." You can read the full story here. Yet, only a few years ago, there was little talk about the food scene in Medellín. Sure, it was easy to find good, healthy food here, but your options were mostly limited to typical local dishes, deep-fried street food, burgers or pastry shops. Today, Trip Advisor ranks almost 1,100 different restaurants in Medellín and that number continues to grow. Being a food and wine lover, I am always searching for new restaurants, experimental and adventurous chefs, and creative options when it comes to dining experiences. Today in Medellín, everyday food choices include vegetarian/vegan specialties, white tablecloth bistros, Middle-Eastern fare, sushi shops, numerous high-end coffee and dessert cafés, and even molecular gastronomy. One of the most innovative places in town debuted a year ago. Along the lines of New York City's Chelsea Market, El Mercado del Rio (The River Market) opened its doors in the Colombian Barrio of El Poblado. This hip, industrial warehouse-style location offers multiple popular food, wine, coffee and dessert options, all under one roof.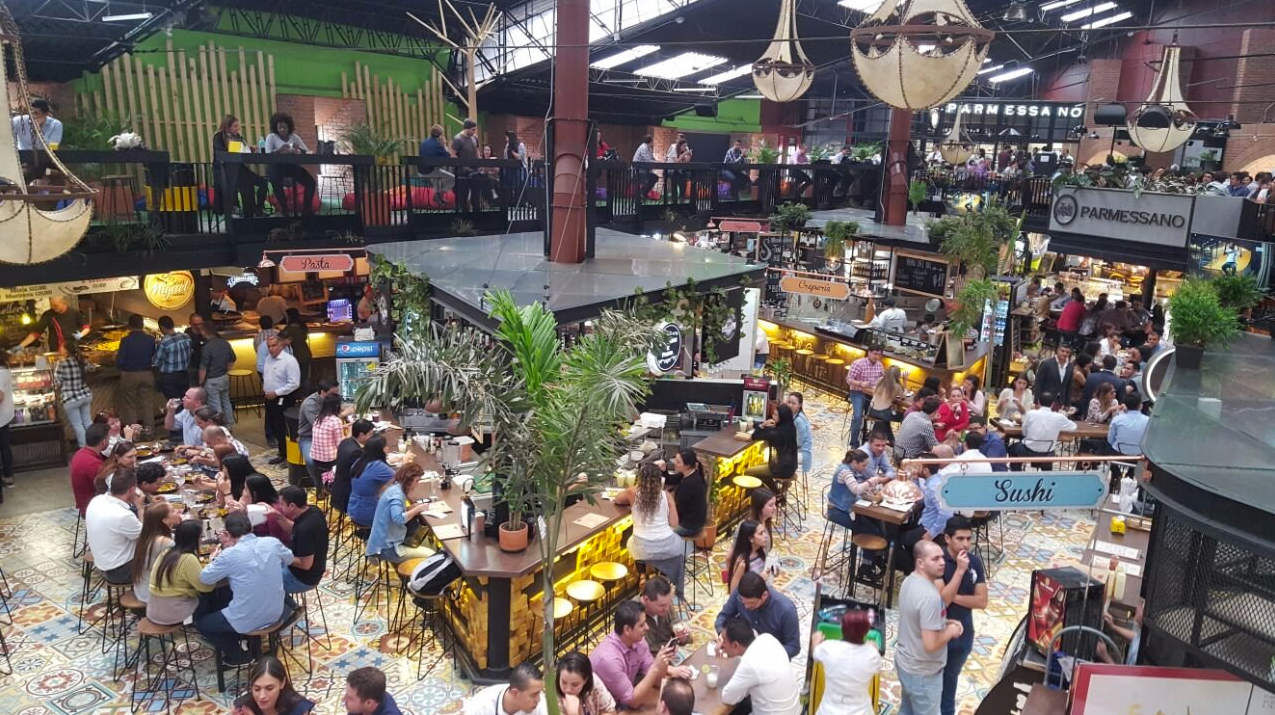 Mercado del Río.
Credit: Trip Advisor
Start by choosing a glass of wine at the wine bar, wander over to the Spanish tapas vendor or maybe the Sushi bar or pork burger joint, then grab the nearest table with your friends who may have opted for paella, kebabs or smoothies. Browse several other quick options to find your next dish, or head up to the loft area where you'll find more traditional restaurants with full menus surprisingly near a casual beanbag lounge.
Before you leave, savor a cup of smooth Colombian coffee with a freshly baked gourmet cookie as you share some laughs with new friends. El Mercado del Rio is open every day from 7:00 am until 9:00 pm and is conveniently located a few blocks from the Industriales Metro Station just across the street from the Bancolombia Headquarters. This fun, lively gastronomical experiment is a definite must-see in Medellín.
Similar dining experiences are also popping up in smaller neighborhoods around town. For example, the barrio of Manila has opened a smaller version of the River Market, called Manila Food Market. This group of 5-6 restaurants also offers freestyle seating which encourages conversation and group events.
Barrio Manila and Medellín's neighboring town, Envigado have developed another innovative dining experience called Calle de la Buena Mesa. These "Streets of Good Food" offer a variety of dining options all on the same road. Hungry people come to these locations, not knowing exactly what they have a taste for, and make their dinner decision on the spot.
Visit one of these streets and you'll find cuisine from Spain, Italy, Peru, France, Argentina, Greece, Colombia (of course) and even a typical American 50's diner, among many other options. Prices are very reasonable and most establishments offer open-air dining which is also perfect for people watching.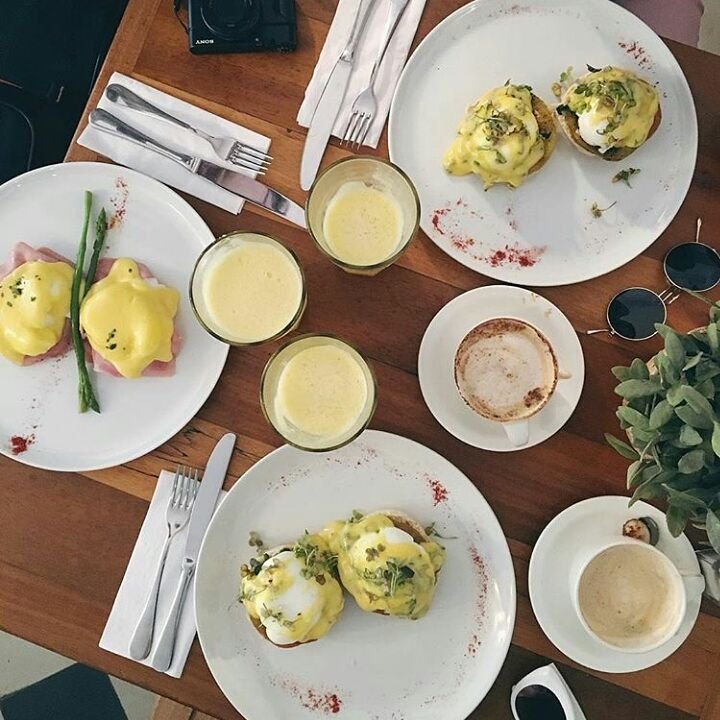 Ganso y Castor.
Credit: Facebook
Colombia's dining philosophy is different from the States. Reflecting a more European influence, Colombians tend to eat later, usually around 8:00 p.m. and once you have chosen a table for dinner, it is yours for the entire evening. Waiters will not unnecessarily interrupt your meal, and you will not receive your check until you specifically ask for it.
Also, restaurant owners are cooperative, they locate their businesses near one another, and they help one another when needed. Once, while we were eating on the Calle de la Buena Mesa in Envigado, my husband ordered a beer from the menu. The restaurant had run out of that brand. Our waiter then ran across the street to another restaurant carrying a different bottle of beer to trade for the brand my husband had requested.
Of course, there is more to the food scene than just restaurants. Medellín is known as The City of Eternal Spring for its amazing, year-round mild weather. As a result, everything grows well in this mountain valley. Fresh fruits and vegetables abound from ultra-modern grocery stores and mercados campesinos (farmers' markets). You'll find the sweetest, reddest strawberries and creamy avocados from passing street vendors, while tiny tiendas, which have been family owned for generations, offer a small variety of fresh goods every day.
You can also go on a food tour to learn more about Colombia's food culture. La Mesa Food Tours offers three guided walking tours focusing on street food, upscale wine and food pairings and the thriving coffee culture. These tours are led by Colombian natives who are fluent in English.
In the past few years, the food scene in Medellín has expanded exponentially. You can now find almost any type of food imaginable in this secluded mountain valley. Most places accept credit and debit cards, but it's always best to verify before you order. Also, you will be asked if you want the tip to be included in your bill. 10% is a standard tip in Colombia. If you fancy yourself a foodie, or simply appreciate multiple dining options when you travel, Medellín is truly the hottest food scene in Latin America right now. Schedule a trip here and be sure to come hungry. There's lots more surprises awaiting you.
Cheers,
Wendy Howarter