Welcome 2018, another year full of opportunities

Dear Friends,
All of us have different customs when the year comes to its end and we envision how the next one will be like. We happen to live in a country with very unique traditions, like carrying a suitcase around the block hoping for lots of travelling during the year, eating 12 grapes representing 12 different wishes, or even wearing yellow underwear on New Year's eve for good fortune.
Here at Gutierrez Group, our team has a different, probably less colorful but equally memorable approach. We like to sit down during the last week of the year to think about that very special goal that will define the course of our organization during the upcoming calendar, and evaluate if what we envisioned for the year about to expire was successfully achieved.
Back in 2015, when we formed Gutierrez Group, it was all about setting ourselves up through condensing over 15 years of accumulated experience. Establishing was the objective. For such we recruited excellent professionals who are even better human beings, constructed our corporate offices, reinforced our strategic alliances and mindsets towards devoting to serving our clients.
Then in 2016, the word was escalating. We opened new lines of services, such as property management, and launched new investment products, like Colombian Timber (www.colombiantimber.com), an equally fascinating and gratifying project; or Sutax Capital, our taxi/medallion financing project, which complemented our already existing taxi dealership. We also developed Manila House (www.manilahouse.com.co), Gutierrez Group's vision of a truly high-quality short-term rental building in El Poblado, Medellin.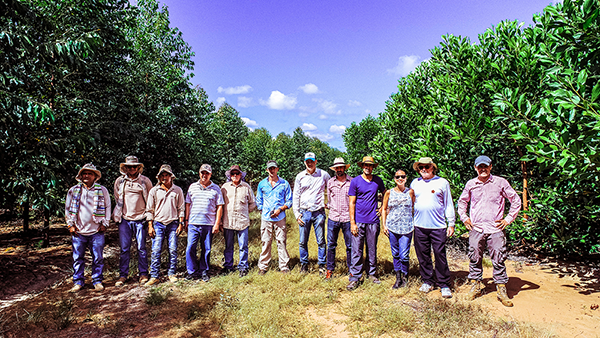 Gutierrez Group in Vichada, visiting our timber plantations. November 2017
2017 was all about consolidating. We set our minds into bringing new clientele and strengthening the cluster of companies and businesses under management. A couple more professionals joined our group and we reinforced our skills and manpower to always be on top of our game and never let opportunities slide away.
As we look back to all these years, we can honestly say that the hard work paid off and that we complied, year after year, with what we had envisioned.
We now face an exhilarating 2018, which couldn't have started better as we had the opportunity to share with our friends a Live and Invest Overseas private event in Medellin.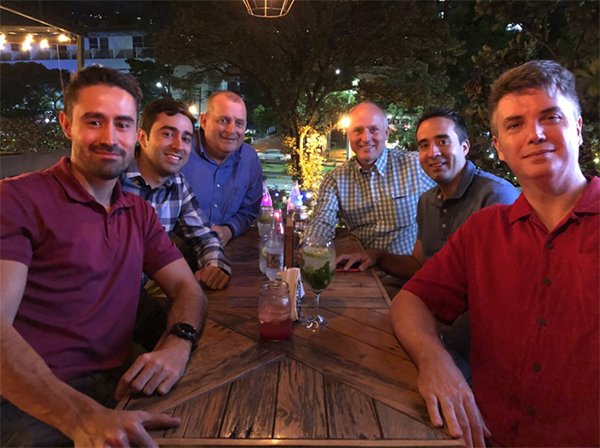 Dinner after LIO's Private Access consulting weekend in Medellin.
Gutierrez brothers with Lief Simon, Mike Cobb and Joel Nagel. January 2018
Within this year of our efforts are going to be continuity and communication. We will continue to imprint our seal and essence to everything we do, including the new "stuff". Whether it's legal services, taxes, back office, project management, reports or property admin, the Gutierrez Group's know-how and philosophy of personalized attention and genuine care for how things are done is going to be present, unnegotiable.
Along with that, and to respond to the many of you who have requested a more constant flow of information and updates of what our minds and hearts are up to, we will also be writing and sharing more often. We will gladly be providing you all with information, both social and business oriented, in a much more frequent basis: from relevant news about Colombia and how it continues to be one of the best expat destinations to both invest and live in; to important updates about our services, projects and investment opportunities, as well as their evolution and performance; to residency, tax or legal novelties, we are basically aiming to transmit what we think you are going to find useful.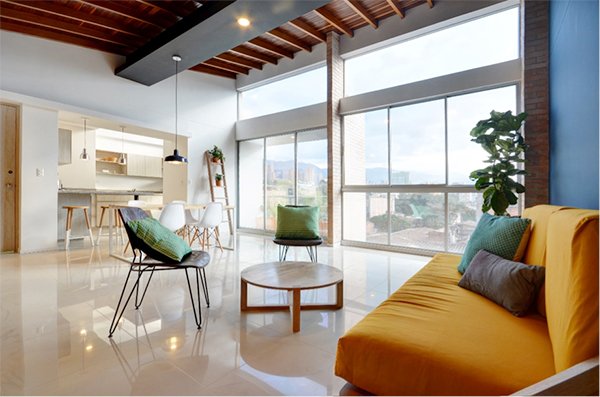 Manila House short-term rental building in El Poblado, by Gutierrez Group. Unit 5 Living Room.
Contact us at manilahouse@gutierrezgroup.com.co to stay here in your next visit to Medellin
Also, we plan to share more this year because well, there's more interesting content out there than we ever had and we wish to make you a vital part of what we are doing, because at the end of the day we wouldn't be where we are if it wasn't for each and every one of you.
This being said, the following are some of the topics that will be covered in our few next communications:
» Obtaining a Colombian visa became even easier with the change of migratory regulation. How to apply for this while obtaining double-digit returns.
» Colombian Timber: plan of action for 2018 and beyond after having purchased over 10.000 acres of land in the region of Vichada.
» Private Mortgage Loans: an alternative approach to the real estate industry through which yields are higher and hassles are lower than traditional rental property.
» Factoring with Judgments: how the biggest news in Colombia's recent history is also the worst thing that happened to one of the safest investments out there.
» Property Management: Gutierrez Group's vision of property management and how compliance and satisfaction can coexist.
» Our take on this year's presidential elections and considerations regarding the opportunities that emerge.
So, here's to an extraordinary 2018!
Yours truly,
Felipe Gutierrez
Gutierrez Group