The Holidays Are A Magical Time To Visit Medellín
If your weather outside is frightful, and you are looking for an exciting and memorable way to celebrate the year-end holidays, you need to come to Medellín in December. With perfect weather for being outside to soak in all of the festivities, Medellín can't be beat at this time of year. And you don't need to bring scarves and mittens!
We'd love to share our beautiful city and traditions with you at this special time of year. So let's take a look at six of the reasons you should join us.
Parque Norte
#1 – Medellín's World-Famous Christmas Light Festival
A few years ago National Geographic magazine named Medellín one of the top ten places in the world to see Christmas lights. Then, in 2018 USA Today agreed when Medellín made its list of the top 25 places to see holiday lights.
Our celebration of lights, the Alumbrados Navideños, began this year on November 29th and runs until January 6th. Each year a different theme is chosen and the displays are never the same twice. In the past few years we've seen birds and animals, flowers and butterflies, pirate ships and lily pads, rainbow tunnels and children's playgrounds, lizards and snakes, candy canes and gingerbread men, gigantic musical instruments and Russian nesting dolls, and much more.
In 2019 we pay tribute to traditional holiday customs in the Antioquia area of Colombia. Since Medellín is the capital of Antioquia, it's only appropriate that all of the local traditions are celebrated here. You can expect to see towering wise men, traditional homes and village settings, flying fish jumping into a fisherman's boat, gigantic lighted trees and enormous Christmas ornaments, all made of lights.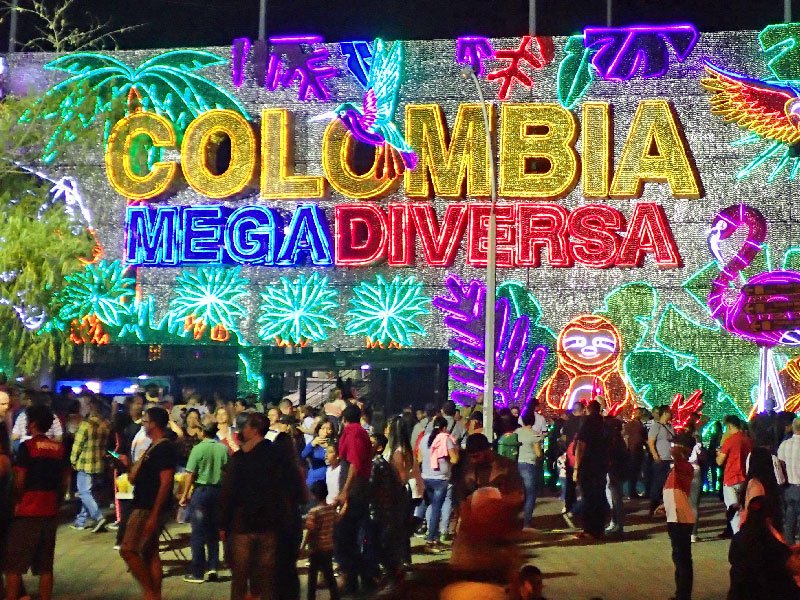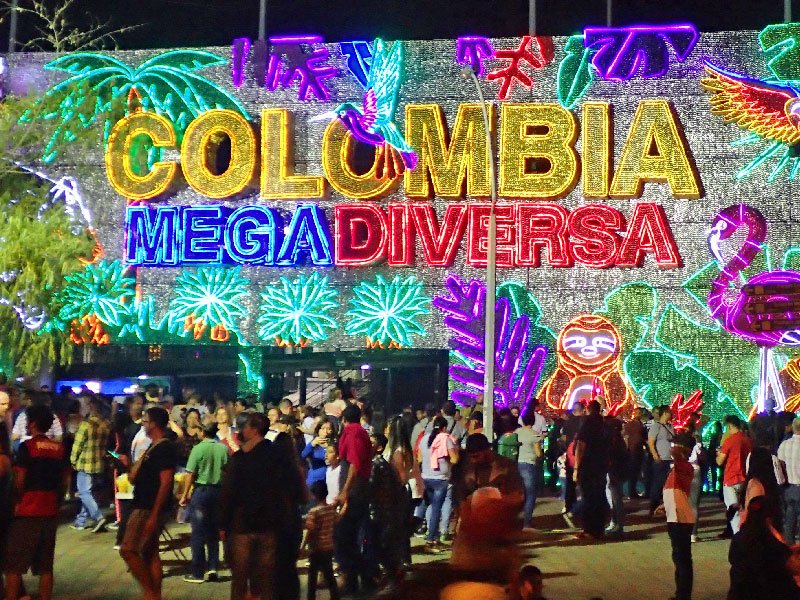 Parque Norte welcomes visitors in 2018
A team of 200 workers have been designing, constructing and assembling the decorations throughout the year to make this year's event the best ever. Featuring 27 million LED lights, 32,000 hand-woven figures, Christmas trees towering at heights over 16 meters tall, and for the first time in five years, the Medellín River is lit with rainbows of color all synchronized to music.
The two largest displays are located at Parque Norte and Parques del Rio, however many smaller arrangements are located all around the city in most neighborhood parks, important roads and avenues, and some of the neighboring communities such as Envigado and Sabaneta. Admission for all of the events is free and the lights are illuminated every night from 6:00 p.m. until midnight.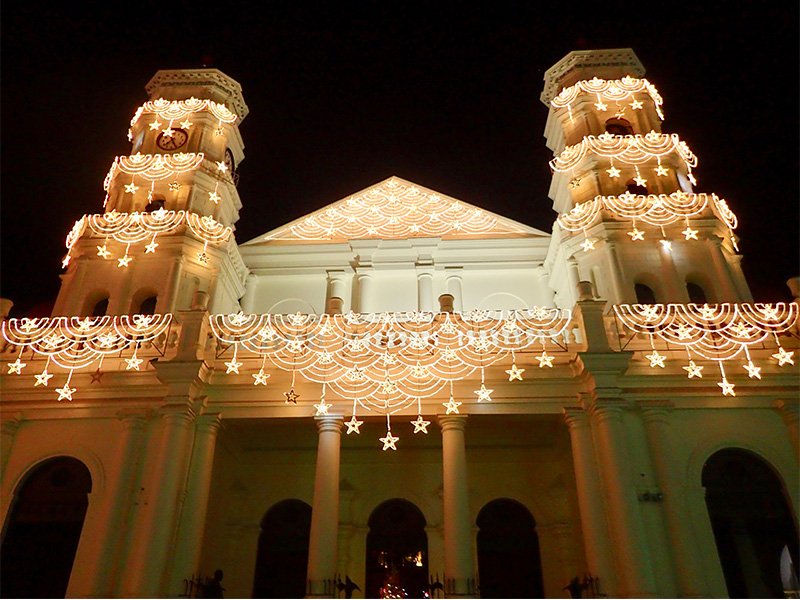 The church in Envigado Plaza features classic decorations

You can easily take the Metro system to the main attractions, or grab a ride on one of the many tour buses which will whisk you to several locations in one night. For music and dance lovers, don't miss your chance to board a traditional chiva bus and party the night away with stops at the best light shows in Colombia.
You certainly won't go hungry while you gaze at the incredible displays. At the major event destinations you'll find vendors selling food and drink, lighted balloons and hats, glow sticks and necklaces, along with strolling musicians and street performers to entertain the whole family. 
While the light festival is world famous, it is only one of the many events you will experience here in December. Here's a sampling of some fun events for the whole family…
#2 – LEGO Funfest
Located at Viva Envigado, the largest shopping mall in Colombia, this celebration of all things LEGO celebrates the creativity, imagination and collaboration of kids of all ages. The fourth annual festival features more than 5,000 square meters of pure fun with 18 different stations where you can make  your favorite LEGO figures and models such as Star Wars and Harry Potter characters, Avengers and Ninja heroes, and more. 
There is a small cost to attend which ranges from 12.000 to 22.000 COP (US$3.50 – US$6.35) per child and 14.000 to 25.000 COP (US$4 – US$7.25) for adults depending on when you go. 
#3 – Artisan Market at Parque Arvi
Open every day including Christmas Day, you'll find local artisans offering traditional food and treats, clothing and shoes, jewelry, handicrafts and agricultural products from the region. Browse more than 40 vendors on the weekends, or a smaller version during the week. Take the peaceful and scenic cable car ride on the Metro Línea L which delivers you to the market. But remember, this cable car line is closed on Mondays. 
After perusing the market, you can burn off extra holiday calories on a hiking tour around the more than 33 miles of trails. In Parque Arví alone, there are more than 72 butterfly species, 69 bird species, and 19 mammal species, but you won't encounter any large mammals here like jaguars or poisonous snakes.
Entrance to Parque Arvi is free, but the cable car ride will cost you 4.600 COP (US$1.33) and the walking tours are 5,000 – 7,000 COP (US$1.50-US$2.00).
#4 – The 35th Annual Exhibition of Christmas Mangers
One of the most emblematic Christmas traditions of our culture is celebrated every year at the gorgeous El Castillo Museum. Within this castle home you'll find beautiful representations of the most important event of Christianity, the birth of Jesus in the manger. Tour the landscaped garden grounds after viewing the lovely manger displays in the lush interior rooms of the castle.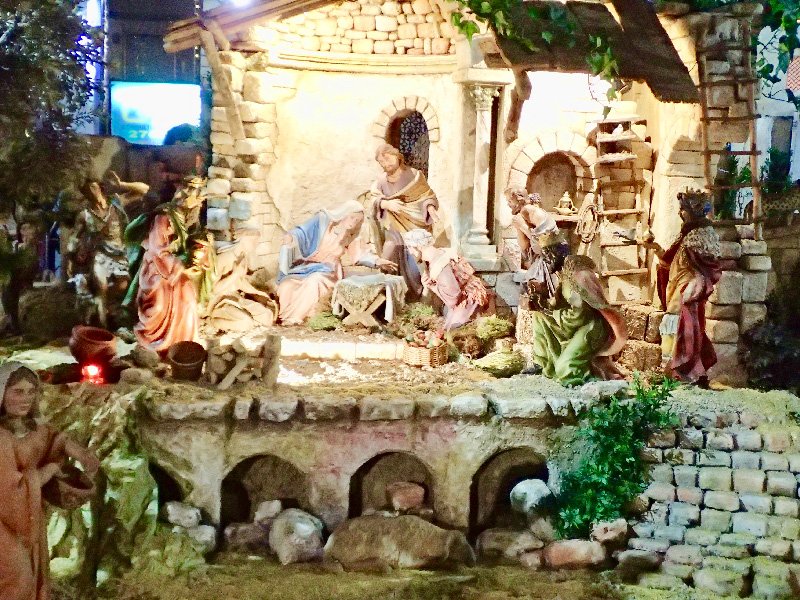 One of many ornate Nativity Scenes on display​
#5 – Christmas for the World
A musical performed at Teatro Laureles follows the story of Santa who moves his Christmas headquarters from the North Pole to Medellín. This is a musical for the entire family full of lights, magic and color where special effects add to the audience experience in this magical world.
#6 – World Latin Dance Cup
Although not holiday related, this 10th Annual dance competition is hosted for the first time in Medellín at the Plaza Mayor convention center. Known as the most anticipated world-wide event for latin dancers, 2019's spectacular event will feature 2,000 of the best dancers from 35 different countries competing in different styles of dance including Salsa, Bachata, Samba, Mambo, Urbano and Tango. The event also features workshops, classes, a trade fair, concerts and parties, and closing ceremonies not to be missed.